An exceptional project model
At the beginning of the project, the team laser scanned and modeled the existing terminal in Revit to help ensure that new construction would not interfere with current operations. The point cloud of existing conditions was used in Revit by the design team to inform their developing design efforts, providing a highly accurate interface between existing conditions and new designs.
The aggregated Navisworks project model gave project stakeholders greater insight into both the project's design and progress. For example, they were able to visualize design variations for different building interfaces. In addition, the 4D modeling features of Navisworks helped stakeholders visually distinguish new versus existing and designed versus constructed. Moreover, Navisworks enabled the design team to quickly inspect for collisions, which helped drastically reduce building errors.
This project model consisted of hundreds of discipline-specific models that all had to be managed and assessed for quality. The aggregated Navisworks project was extremely complex, with over 2 million unique objects – from doors, walls, and columns to connectors, sprinklers, plumbing, and lighting fixtures—each with their own unique product identifications. Including rebar, Navisworks handled 3.3 million objects in total, producing a 1.4GB file. The 3ds Max production model of 41.1 million polygons pushed the hardware to the limits.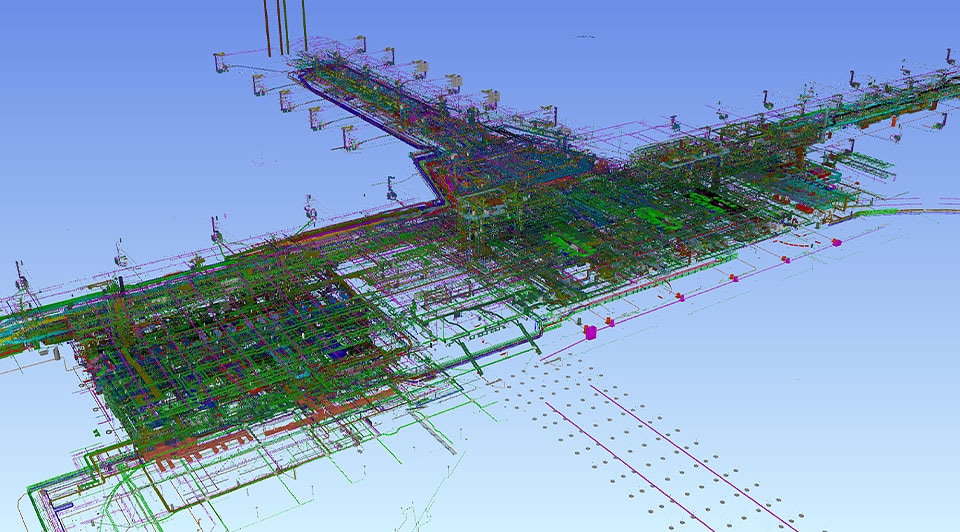 View of Oslo Airport project in Navisworks with 1.8 million MEP objects. Image courtesy of Nordic.
Project analysis, simulation, and visualization
The design team also used BIM software and the Autodesk models to analyze and simulate many different technical aspects of the building, such as analysis, electrical capacity, lighting, short circuits, crowd simulation, sun/shadow analysis, air capacity, and so on.
In addition, the design team used its BIM model in Navisworks and 3ds Max to generate whole-project visuals and animators for public outreach and to better inform the design team and client during their decision making.
Intelligent model-based design and Autodesk BIM solutions helped stakeholders visualize the whole project's progress and end result. The Autodesk software enabled collaboration between the design team and the contractor, regardless of underlying design platform, with the help of the IFC compliance of Revit and Navisworks.
Results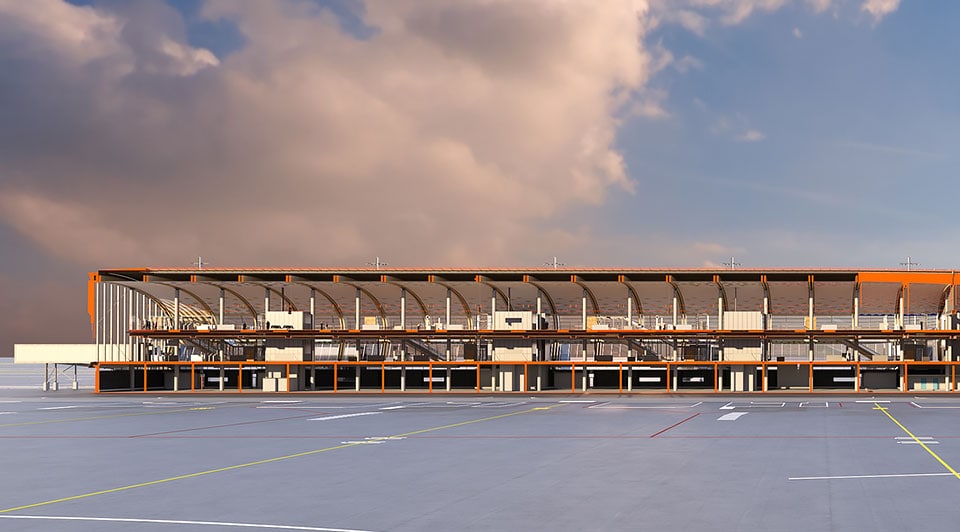 Rendering of Oslo Airport expansion project in Autodesk 3ds Max. Image courtesy of Nordic.
Autodesk BIM software helped the project team meet its main goal for sustainability, design, construction, and operation. Success was achieved in the face of a high degree of project complexity.
The $2B project was delivered on time and under budget with a dramatic reduction in building mistakes and design errors. And construction of the new terminal occurred while the airport functioned with uninterrupted operations and continual traffic growth. Highlights of the project include:
Increased capacity from 20 million passengers per year to 32 million per year.
Achieved BREEAM Excellent rating. Energy use reduced by more than 50% and climate gas emissions reduced by 35% through the extensive use of wood.
Using snow from the winter months for cooling during the summer; artificial light complementing daylight; energy wells; and district heating.