At the beginning of 2016, the company was valued at roughly $16 billion and had approximately 40,000 members in over 40 locations in cities around the world. The company is constantly acquiring additional office space and expanding to more cities and countries
The challenge
The challenge "One of the keys to our success is the ability to quickly convert the spaces we lease into rentable WeWork locations," says Dave Fano, WeWork's Chief Product Officer. "Unfortunately, the floor plans for those leased spaces are usually inaccurate, so we have to spend time at the beginning of every project capturing accurate as-built information, which slows us down." WeWork also uses prefabrication techniques to speed up construction, which requires a high degree of design accuracy and coordination with existing connections and services.
And unlike a typical real estate company, which often rents out large portions of a floor plate or multiple floors to a single tenant in a long-term lease, WeWork rents out much smaller units on a month-to-month basis. Accordingly, the development and management of that space is very different than traditional real estate development companies. "Our inventory management is extremely complex," says Fano. "Early in the design process, we closely analyze revenue versus cost and other business metrics that require a very data-centric design approach."
The solution
WeWork uses reality capture and Building Information Modeling (BIM) solutions from Autodesk to support the design and construction of its WeWork offices, including ReCap, Revit, and Dynamo Studio software. "Information-rich 3D design models help us to quickly iterate design options and analyze those designs based on factors such as cost and potential revenue, and quickly deploy our designs using design-to-fabrication and lean construction processes," says Fano.
The firm uses 3D laser scanners to capture the existing conditions of a newly acquired space. The resulting point clouds are combined and edited in ReCap to visualize and navigate the existing conditions data. This data is used in Revit to guide WeWork's modeling efforts as it develops a series of design options. The firm uses Dynamo (a visual graphical programming interface tightly integrated with the Revit platform) along with custom applications developed using the Revit API, to embed cost and sales data from its business systems in the models, and to automatically extract information from the models that are reflected in its business intelligence systems.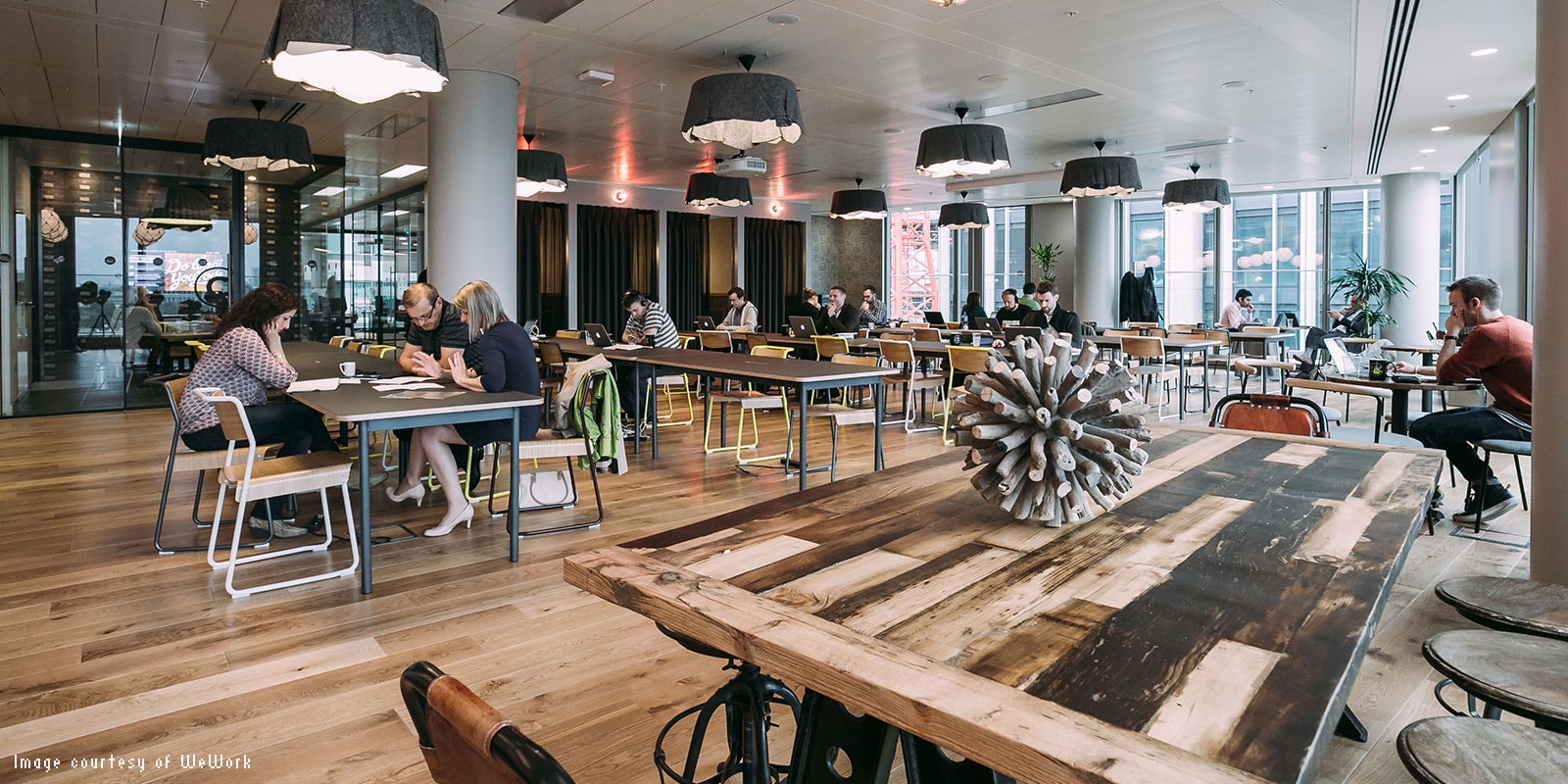 Data/model-centric design and construction
"During early design layout we are constantly testing our revenue models," says Fano. "Our Revit models are loaded up with all sorts of data coming from a variety of sources information we need to analyze cost versus revenue. And as we push and pull walls around or add building components, we get immediate feedback on our costs to optimize our pricing."
As the design progresses (and the interior floor space is revealed), WeWork scans the space and references that data to quickly generate a more detailed design model and coordinate its design with existing structure and services. This highly-coordinated, precise 3D model offers increased use of prefabrication and offsite assembly, helping to minimize onsite rework and avoid delays during construction. "We're working with more and more mechanical contractors, for example, who can use our models to generate their shop drawings and drive their digital manufacturing processes," says Fano. "Our level of prefabrication continues to grow, from store front and wall systems to privacy pods and phone booths. And our Revit 3D design models feed and expand these opportunities."
In addition, the intelligent Revit design model drives WeWork's supply chain. "With Revit, we can produce all of our drawings and quantities automatically," says Fano. "So all estimating and bidding is based on our design model and surprises are minimized during construction."
Analyzing options
WeWork feels like it is more of a technology company than a real estate company, and its design-build process relies heavily on software programming. The firm uses Dynamo, as well as the Revit API and its own custom programming efforts, to inject data from its costing and sales systems into the design process and extract information for supply chain support. "For example, instead of running reports from all the various design models of offices opening in a specific geographical area and manually combining that information, we have custom-built data feeds that automatically aggregate that information. Dynamo is basically our data Swiss Army knife," says Fano. "The power of Dynamo, combined with the openness and integration of the Revit platform and API, allows us to use Revit as a BIM-based inventory management system."
The results
"Our design-build speed and agility benefit from Revit and the Autodesk BIM solutions, and helped us achieve our current level of success." says Fano. "The software helps us to tap into the information we need to quickly make the decisions we need to make and bring new WeWork spaces to life."
Learn more about the products included in the AEC Collection.