Investing in innovation
During the recession, clients asked architects to do more with less—and firms delivered. LMN was no exception. But the firm realized that just working faster and smarter with tools like BIM software wouldn't be enough to design the best 21st-century buildings. Collaboration with contractors and fabricators often came too late in the game to allow for new approaches and creative exploration. There was too much of a gap between the formation of a new idea and the ability to validate it.
"The 21st-century building is complex, interconnected, and social to accommodate our evolving human networks," says Van Dyck. "It's flexible to respond to our rapidly changing world. And it must be sustainable beyond traditional metrics. But the industry is trying to use 20th-century workflows to deliver, and it's not always working out."
According to Van Dyck, LMN decided to invest in workflows, technology, and a mindset that could catalyze innovating thinking: "We started a research and development group that we call Tech Studio. Two of their key accomplishments: improving the link between BIM models and simulation tools, and bringing in fabrication tools, like a computer numerical control (CNC) machine. Now, our design team can explore and test ideas quickly."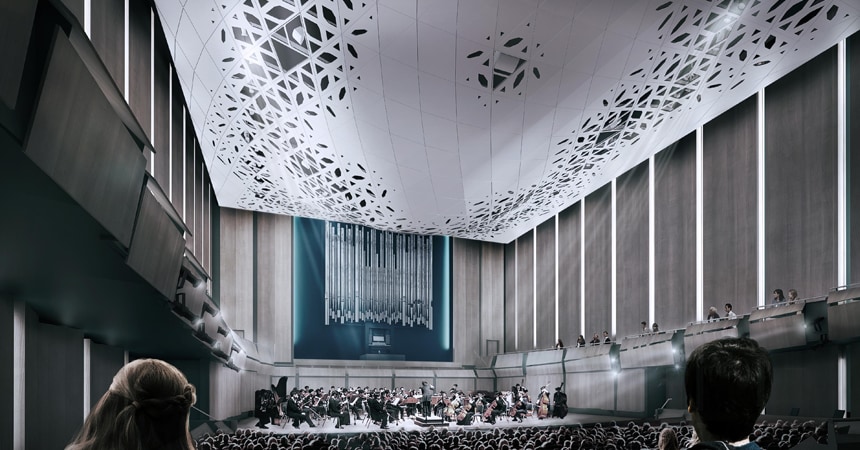 Getting real
The University of Iowa project shows how Tech Studio helps foster new approaches. The building contract was going to a contractor who would be unknown until the design was complete, so any novel design aspect needed to be crystal clear. Rather than moving in a conservative direction, the team was inspired to create something innovative and foolproof.
The ceiling of the building's performance space highlights the process. A composite aluminum panel featuring organic shapes, the ceiling looks complex and original. But composite aluminum is actually inexpensive and flexible—it's most commonly used in gas station construction. After designing an intelligent, 3D model of the ceiling in BIM software, the team actually made and cut a real example in the Tech Studio.
"We made a prototype and proved that it worked," says Van Dyck. "Some stakeholders were skeptical. But if you walk into a conference room and show them you did it over the weekend, no one can say it can't be done. The idea went from crazy to completely feasible. Huge success. The winning bidder beautifully fabricated the ceiling panels directly from our models without even having to generate shop drawings."
You can do it too
LMN wants every 21st-century design project to be able to connect teams, insight, and delivery just as readily. Why? They're excited by the prospect of seeing innovation in every 21st-century building. "We're committed to working in this new paradigm," says Van Dyck. "Since we started Tech Studio, we've been sharing our research and more online for free. We've made gains, but the biggest gains will come from cross-industry collaboration."