What makes the organization unique is its approach of enlisting service members with post-traumatic stress (PTS) and traumatic brain injuries (TBI) in training dogs for fellow service members. This focus on the Warrior Ethos of "Warriors helping Warriors" provides a two-fold therapeutic benefit: both for the service members and veterans who train WCC puppies, and for the veterans who receive fully trained service dogs at no cost.
Rick explains: "What is being offered as the gold-standard treatment for PTS isn't enough – one-third of vets who complete treatment don't report any significant gain from doing it. So how do you retrain someone who's reactive and emotionally numb? You have to have patience and sound happy to reinforce good behavior in puppies, and vets take that home and apply it to their kids."
Rory Ready agrees, "They [WCC] directly impact veterans."
Additionally, because the therapeutic activity is training the dog to help another warrior in their recovery, the stigma of PTS or of seeking psychological counseling goes away because the focus is on helping another veteran.
Growing plans for WCC
Currently, WCC operates its Mission Based Trauma Recovery programs in the Washington, D.C. Metropolitan Area and in Menlo Park, CA with offices at Walter Reed National Military Medical Center (WRNMMC) and the National Intrepid Center of Excellence (NICoE) in Bethesda, MD; at Fort Belvoir, VA; at the Palo Alto VA Health Care System; and at the WCC "Healing Quarters" in Brookeville, MD.
With the large number of service members and veterans reporting symptoms of PTS and TBI, WCC's ability to grow the program over the next decade is critical. The organization's goal is to support additional Department of Defense and VA sites at a rate of two sites per year for the next decade in order to help 48,000 veterans. The renovation of a new Healing Quarters location in the DC Metro area is a critical component of scaling WCC's efforts up to meet the demand.
Using future-looking technologies to create a healing space
In 2015, WCC broke ground on a new comprehensive Healing Quarters facility in Boyds, Maryland. Located 30 minutes from WRNMMC, the new site has the potential to increase the organization's ability to serve thousands more wounded warriors and their families, expand their breeding program, and increase internship opportunities for veterans who wish to pursue careers in service dog training. At the new Healing Quarters, WCC also hopes to include other forms of integrative medicine, such as Equine Assisted Therapy and therapeutic farming and gardening.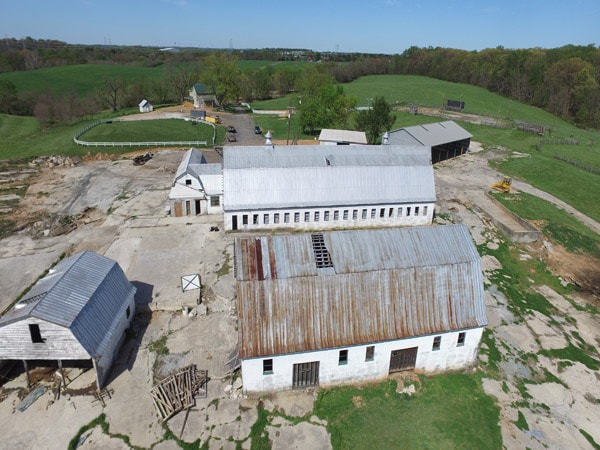 A large 1930s era dairy barn is the showpiece of the property; it represents a quintessentially American structure being used as a healing space where the community can once again come together to sustain itself.
To make the renovation happen while keeping costs as low as possible, the United States Chamber of Commerce enlisted the help the Association of General Contractors of America, who then reached out to several technology organizations for pro bono assistance, including CADD Microsystems, FARO, Carahsoft and Autodesk. Each of these firms donated their time, energy, and technology to aid in the renovation process, with more to be involved throughout the re-design and construction phase.
In order to help capture the current conditions of the site, Autodesk scanned the structures and surrounding topography using a FARO laser scanner, reality capture and drones, and then created a visual point cloud model (see video below). Laser scanning the site took hours instead of weeks of hand-drawn models and measurements, and is accurate down to the millimeter.
CADD Microsystems then created a new Revit® (a form of building information modeling or BIM software) model generated from Autodesk's point cloud model. This model is based on existing structures on the WCC site that is helping to enable WCC to reuse and renovate all possible existing structures on the site, and to support the identification of possible construction issues early in the redesign process. The model includes the two-level dairy barn, connecting barns, and an open storage shed.
Autodesk's software connected the entire project, bringing together an ecosystem of technology partners across the project lifecycle, from capture through to renovation. Using these models, the team has generated plans, sections, elevations, 3D views, and other types of views in Revit to help design the existing structures. Both the exterior and the interior of the structures have been modeled using Revit, including the structural columns that are a crucial part of the redesign of the project.
Once the Revit model was created and ready to be vetted by construction and contractor firms, all of the BIM modeling data was uploaded to Autodesk® BIM360™ Docs web service, where continued coordination and collaboration can take place more easily and efficiently throughout the project, by all stakeholders.
Because this data was captured using BIM, WCC will be able to use the 3D model to help with ongoing maintenance and operations of the project once the remodel has been completed. This means that, once complete, the building systems will be able to access the 3D model used in the renovation to monitor things like temperature controls within the buildings, which can keep heating and cooling expenses down.
Stay tuned for updates on this incredible project!
For more information on WCC's work, click here or if you'd like to donate, click here.
For Carahsoft's infographic on the project, click here.
Autodesk, the Autodesk logo, Revit® and BIM 360™ are registered trademarks or trademarks of Autodesk, Inc., and/or its subsidiaries and/or affiliates in the USA and/or other countries. All other brand names, product names, or trademarks belong to their respective holders. Autodesk reserves the right to alter product and services offerings, and specifications and pricing at any time without notice, and is not responsible for typographical or graphical errors that may appear in this document. © 2016 Autodesk, Inc. All rights reserved.