"Coordination is critical on any large project," says Aaron Perry of Allford Hall Monaghan Morris, the architecture firm leading the project. "The imperative to avoid clashes and issues grows when you add complex underground infrastructure, but having to account for 2 transit lines turned coordination into a continuous priority. Cloud-based model sharing makes that possible."
Collaboration in the cloud
When the design and engineering teams began to model the project, they also accounted for how they would share information. Send models to different disciplines at key milestones? No, they chose to share models in the cloud, giving the whole team anywhere-anytime access to current project information. Cloud-based viewers helped stakeholders check details quickly without having to download full models. With the underground rail stations so important, the team included in its cloud-based project hub models of underground conditions.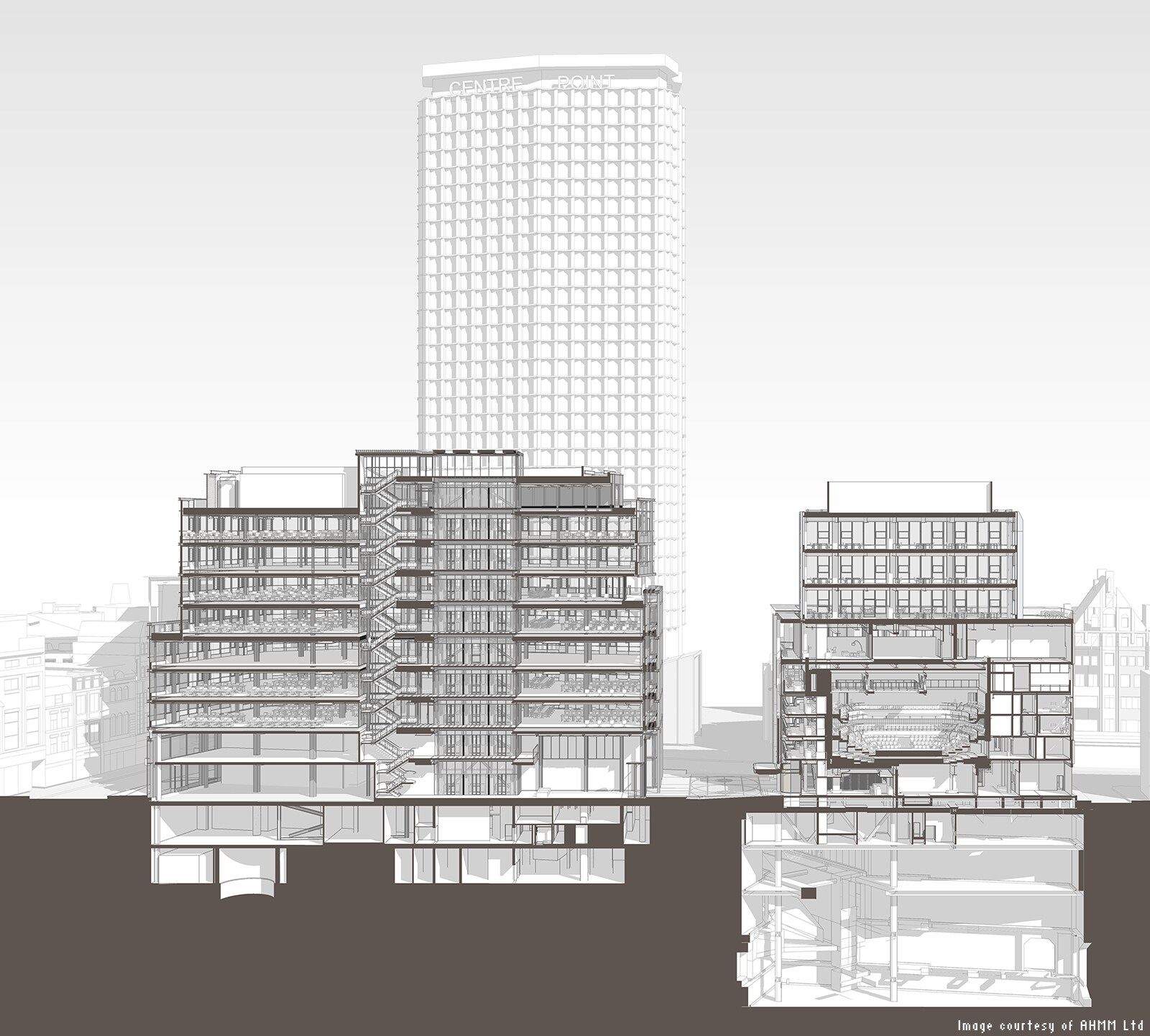 Cloud-based BIM kept the team working in unison, but it also helped the client to stay close to the project. Allford Hall Monaghan Morris produced more than 1,000 renderings of portions of the project so that the client could visualize design choices. Creating so many quality renderings would have tied up significant in-house computing power. So the architects turned to the cloud, sending their design models to a cloud-based rendering service—no in-house processing required. The team used these visualizations as a quick way to communicate design intent and changes, saving time while providing the client with a clear window into the project.
Best seat in the house
Beyond coordination, BIM delivers useful insight. The theater provides a clear example. In the early stages of the project, the team and client considered a variety of theater configurations, including an in-the-round, traverse stage; a short thrust stage; and long thrust stage. The team developed models for each simultaneously. Using BIM-based computational design tools, the team made it possible to see and analyze the view of the stage from any seat. This helped the client to opt for a theater-in-the-round design.
Computational design has also helped to save significant time on the project. The team used it to audit the model automatically and generate spreadsheets that track project data, such as room size, elevations, and more. Having easy insight into these details makes it easier for the team to keep the large project aligned with the client's needs.
New and experienced users succeed together
As the project has progressed, the design has evolved and changed significantly. But shared models in the cloud have connected the whole team to each other's work, preventing the all-too-common problem of working from outdated information. The team has also saved time as they've hit key milestones, thanks to the BIM process. That's true even though many of the more than 20 contributors to the model had limited experience with BIM prior to joining the project. In fact, the team has delivered packages well ahead of schedule for several project stages.