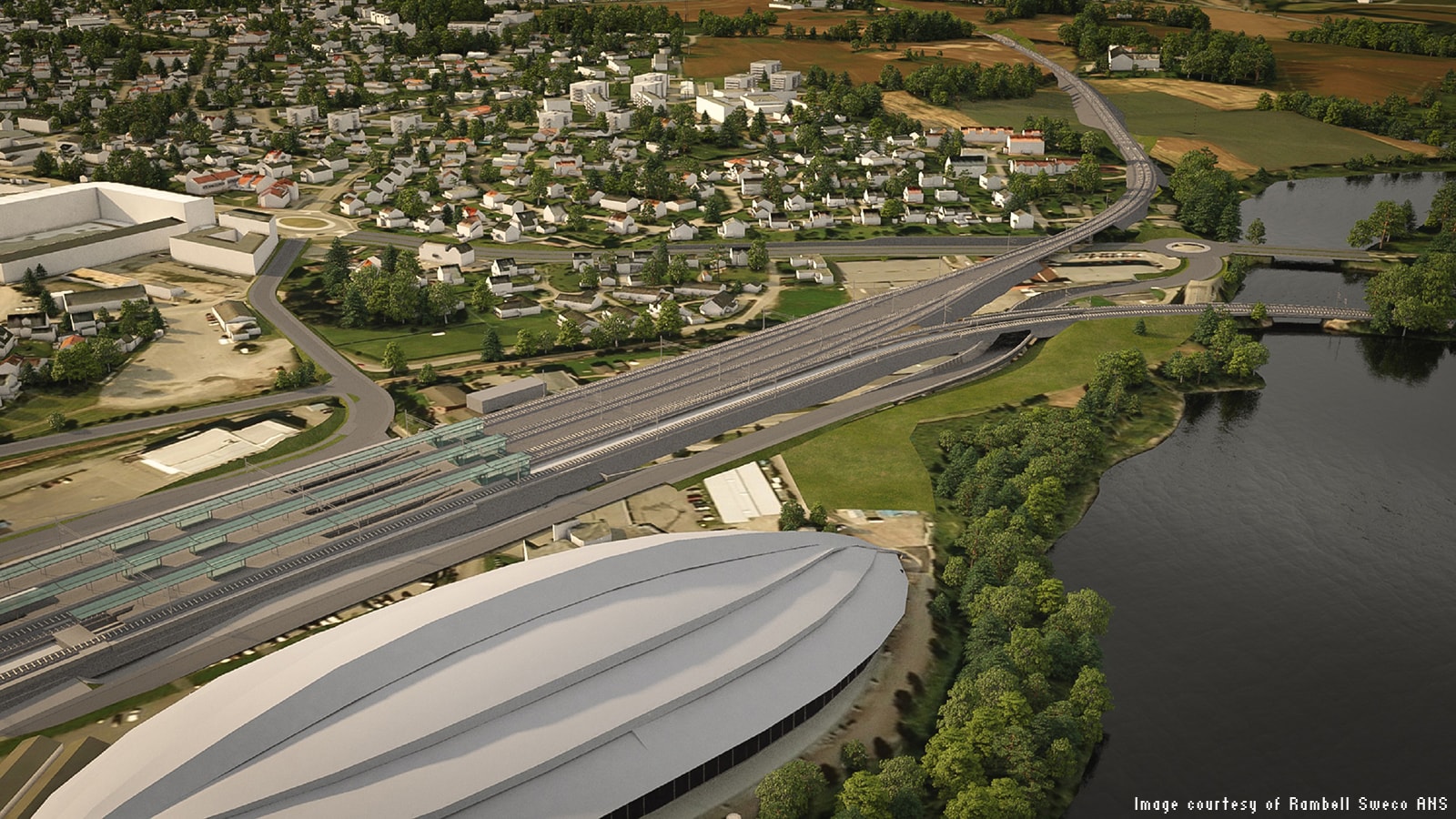 Negotiating a challenging environment
When it came to challenges on the Dovrebanen section of the new InterCity line, the list was long. In some sections, Rambøll Sweco ANS needed to plan for entirely new track to be built; and still other parts were to have new track intersecting with old track. The rail lines also had to navigate roadways, either by crossing main streets over the railway, or vice versa.
However, the terrain posed the biggest challenge. The railway corridors cross several valuable landscapes that have significant environmental and cultural restraints, including an important nature reserve that is protected by the Ramsar Convention—an international treaty for wetlands conservation. BIM made it possible to identify and plan for these areas early.
Another special concern was that the Sørli-Brummunddal line contained rail lines that would be placed close to the lake Mjøsa, necessitating flood plain analysis. BIM enabled simulations of 200-year flood events to see how corridors and station areas would be adversely affected. This simulation also helped to determine station platform elevations in the city of Hamar to limit, or even prevent, railway downtime during floods.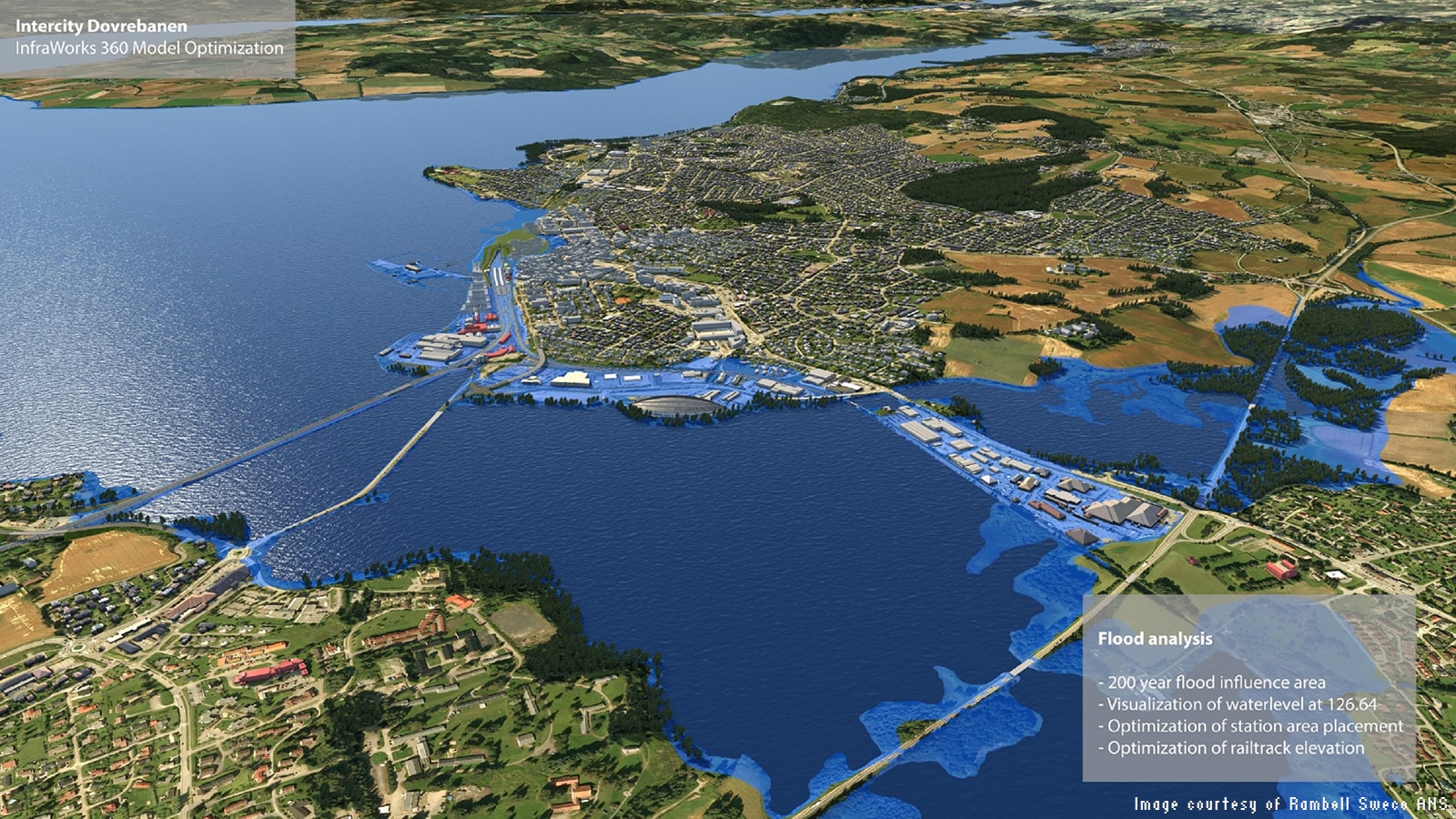 Connecting 120 stakeholders
The InterCity project planning also had to take into account the needs of local residents, an important factor in the work of the JBV. From the beginning, Rambøll Sweco ANS had to preserve elements that were of historical significance and to keep environmental impact to a minimum, with the help of local agencies. External communication was a key factor, given the strong interest from media and local community groups, and the need to gain public and agency consent.
All of this required a system that could aggregate huge amounts of disparate data and present it in a format that was easy to view and understand. Changes needed to be comprehensible at all stakeholder levels, from the grassroots up to the most sophisticated engineering professionals.
And the tight schedule meant that project acceptance and agreement by all stakeholders had to occur in record time. A total of 120 design and approval participants contributed to the BIM process to design, propose, simulate, analyze, share, and comment throughout the entire project.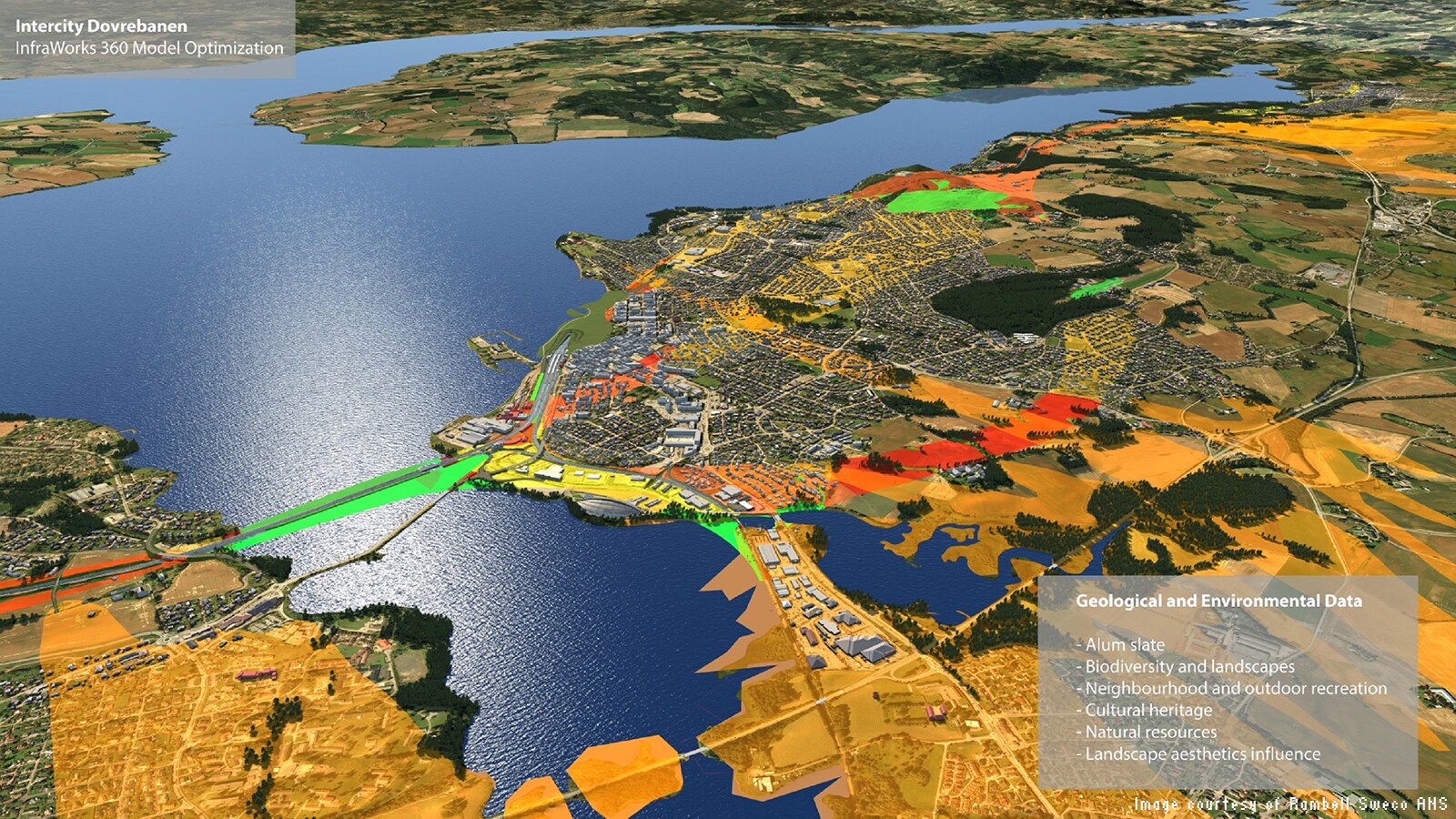 The benefits of BIM
All told, the new InterCity line will mean shorter travel times, doubled capacity, and more freight traffic, benefitting huge numbers of travelers, as well as the economy. For more than 300 participants on the Sørli-Brummunddal project, BIM provided significant benefits. "Using BIM as a planning tool improved our process on nearly every front," says Kristin Lysebo, BIM Manager for the InterCity-project. "With BIM, we could reduce the environmental impact of our project, optimize designs across disciplines, and increase democracy and transparency in our planning."