"We had as many as 600 workers on site each day, and they all knew what they needed to do because we created and followed a precise plan for site logistics and construction," says Joshua Mercado of HerreroBoldt, the project's general contractor. "More than 25 companies contributed to the project and more than 75 people contributed to the project model. BIM aligned the extended team with the design and the detailed construction planning that made the project such a success."
Tackling every challenge
The construction team had to overcome just about every hurdle imaginable. California has strict seismic requirements for hospitals, which can drive structural steel costs sky high compared to those of other types of buildings. The site was located on one of San Francisco's busiest intersections, making access tight, and the design called for constructing a tunnel under the main route through San Francisco. With land prices among the highest in the United States, only lot-line-to-lot-line construction on the developed city block made sense. And nothing could happen until the construction team removed the old 11-story, concrete hotel that occupied the site.
In collaboration with the project architects and engineers, the HerreroBoldt team created a model of the entire project. The model included more than 500,000 objects and detailed the contributions of all the trades on the project. Presenting the relevant data from the model to regulators for analysis and review, the engineers and construction team collaborated to win approval for the first-ever use of viscous wall dampers in a U.S. hospital. Getting the go-ahead for this relatively new technology improved the seismic performance of the building—while reducing required steel tonnage by 33%.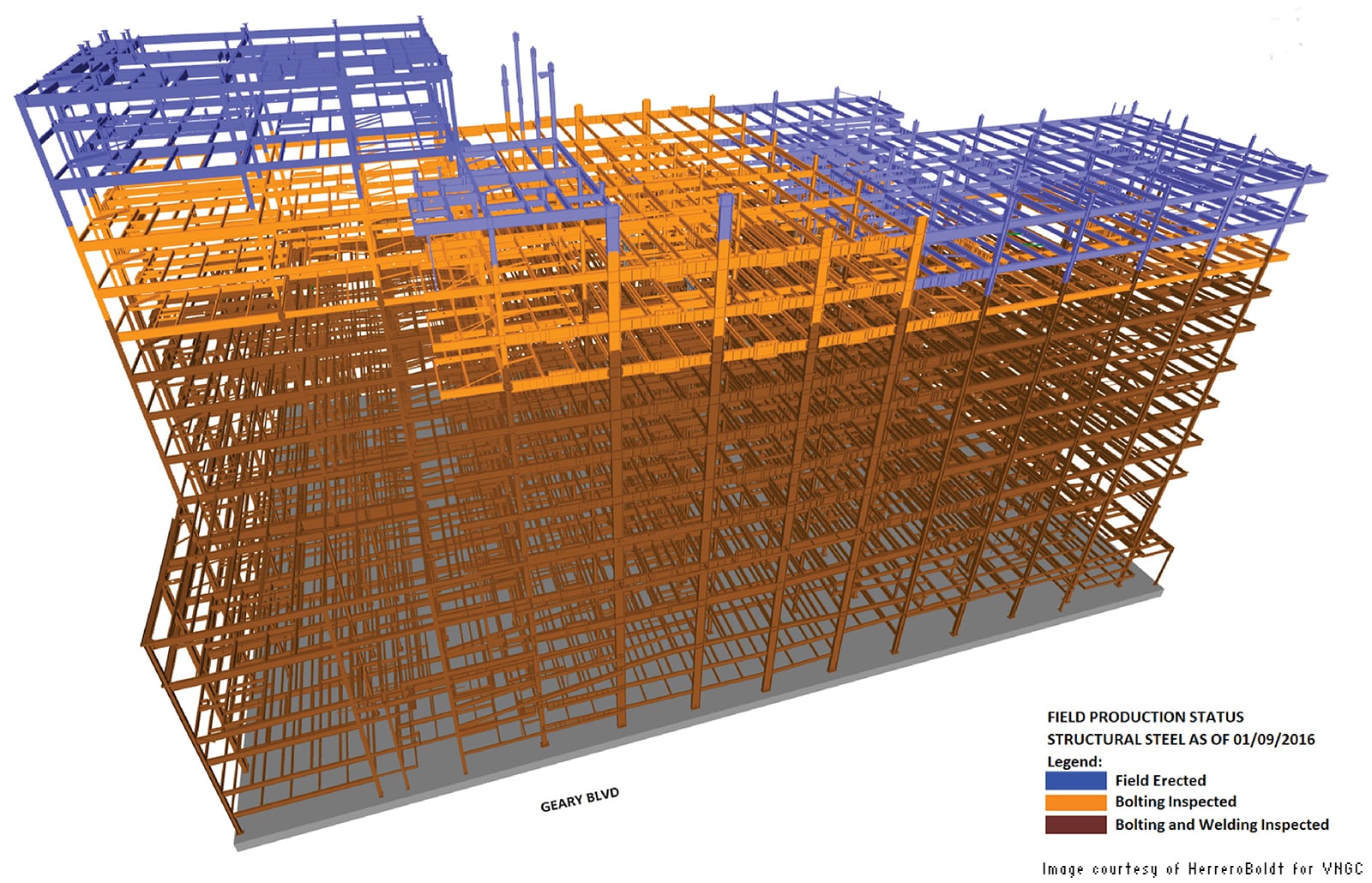 Like clockwork
Continuing to connect the model to the delivery process, the team sequenced construction and explored a variety of options to find the best alternatives. They also coordinated to avoid clashes, especially in the most complicated details. For instance, some portions of the complex exterior skin required contributions from more than 5 trades. By giving those potential trouble spots more coordination attention, they sidestepped issues in the field. Cloud-based, BIM-compatible services streamlined communication and model sharing throughout planning and delivery.
It's common for construction teams to use BIM to plan the best arrival day for materials and map the best use of staging areas. HerreroBoldt took this a step further and precisely planned the arrival and departure of individual trucks as they removed 130,000 yards of fill from the site, dramatically reducing the fuel and time waste of on-street and on-site idling. Similarly tight choreography accelerated the construction of the tunnel, which required the closure of a major road. The team built the tunnel over 3 carefully planned weekends, ultimately reopening the road ahead of schedule.
Touring the future of project delivery
HerreroBoldt considers this extensive use of BIM to model and plan construction an unambiguous success. The team is not alone. Hundreds of industry experts, owners, and fabricators have toured the construction site to learn more about how HerreroBoldt and its collaborators coordinated teamwork in the office and in the field on the project. But did all this modeling and close coordination add costs to the project? Quite the opposite—the project benchmarks against comparable hospital projects as among the lowest cost per square foot and per bed.