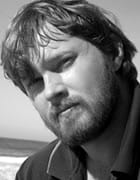 What is your background as an artist, and what are some other projects you have worked on?
I always loved to draw since I was very young. In fact, I don't remember when I wasn't interested in drawing. Since I was in grade school, I wanted to make art for video games. When I was a sophomore in high school, I decided to dedicate myself towards making that a career, and I took my GED. And on the strength of my grades and art portfolio, I got accepted into what was then the only accredited degree program in computer art in the United States at Cogswell College.
When I was 19, I left school for my first job, making 3D online games for the summer Olympics website in 2000. Then, my career took a turn, and the company which had been doing online 3D games was acquired by a marker-less facial motion capture company (the same guys behind what's now Google Goggles). This derailed my career into 3D avatar communication for a while.
After a few years of that, I left to get back into games. I joined a startup called Cast Iron Games as lead artist. Then, I joined Subatomic Studios in 2009. After my first job making 3D online games, I've always been focused on in-browser or mobile applications. After my time making mobile avatars, going back to mobile gaming was the natural fit.
How was asset creation different for Fieldrunners 2 compared to other projects you've worked on?
It's the most complex 2D system I've ever been a part of. I wrote the exporter for rendering assets out of 3ds Max, and it's a more robust exporter than I'd done in the past. I think the main difference is how we created tag points for particles and multipart models. For instance, an airplane might have a propeller as a separate art asset, and the exporter needed to be able to tag those points with orientation, so they could be combined later with our proprietary tools.
What was the biggest hurdle you had to overcome while working on Fieldrunners 2?
It's hard to say for sure. The maps were hard. I painted several of the map backgrounds, and we've got a very high standard for not only quality but cohesion. Trying to make my maps look good enough, detailed enough, and stylistically similar enough was very challenging. Also, as it's a 2D game, figuring out a way to sort everything onscreen (we don't use a z-buffer, because we use a heavy amount of semitransparent sprites) so that we can have bridges that loop was very challenging.
What was the biggest advantage of working with 3ds Max on this project?
For me, being very familiar with Maxscript and being able to write my own tools was a huge advantage. Aside from the exporter, I had a script that would align a camera to perfectly match the bounds of an image with the camera tilted according to our in-game perspective. This way, I could create a 3D object on top of the 2D background, and it would immediately be the proper scale with the 2D art and with the proper perspective.
What kind of games do you play in your spare time?
Well, a video game career doesn't provide as much time to play games as I'd like. I was a Nintendo kid and particularly a fan of Megaman, Zelda, and Final Fantasy. Lately, I play mostly casual games, as they can be more easily crammed into my schedule and, given that I work in mobile games, keeping my finger on the pulse of the trends in casual games feels more productive. I do make the time to play a Resident Evil or Final Fantasy game when a new one comes out, and now that Fieldrunners 2 has shipped, I've got a date with Diablo 3.