Sample test questions
Review these sample questions that demonstrate the format, question types, and proficiency level on the Autodesk Certified Professional in Inventor for Mechanical Design exam. 
The screenshots below show you how question types will appear in a live exam environment. Be sure to review these question types and how they operate carefully so you're prepared for them in the live testing environment.
Note:
You won't have access to the software during the live exam. All questions are in a selected response format and are designed to be answered without the software user interface. 
The practice test at the end of the certification prep course will give you practice on exam topics but is not reflective of the live exam environment. The practice test question types are limited to multiple choice only. You may see all of the question types below on the live exam. 
Multiple choice
Multiple choice questions measure knowledge of a specific content topic. A multiple choice item asks a question and provides multiple possible answers.

Answer key
Drag-and-drop
Drag-and-drop questions measure object-association and placement skills. Exam takers select and reposition answer options within a list or graphic.
Answer key
Point to point (Coincident) – Work axis to work axis (Mate) with work axes perpendicular to layout plane
Point to line (Coincident) – Work axis to work plane (Mate) with work axis perpendicular to layout plane
Line to line (Collinear) – Work plane to work plan (Flush)
Hot area 
Hot area questions measure your ability by asking you to select "hot" areas of an exhibit. Hot area items are essentially multiple choice items with graphical answer choices.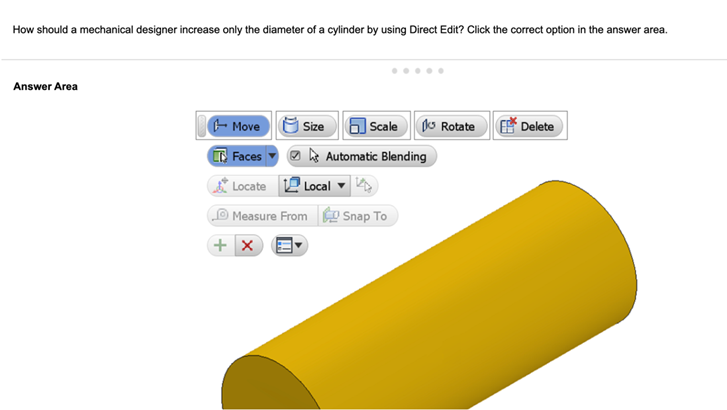 Answer key
Statement analysis (True or false)
Statement analysis (true or false) questions measure your ability to judge whether a factual statement is either true or false.
Answer key
You convert a standard part into a sheet metal part. You can create a flat pattern only if the thickness of the materials matches the sheet metal style.      True
A sketch is required to create a sheet metal cut.      True
You can select only one edge when creating a flange.      False
Graphic interpretation
Graphic interpretation questions measure your ability to view a graphic and interpret the information successfully.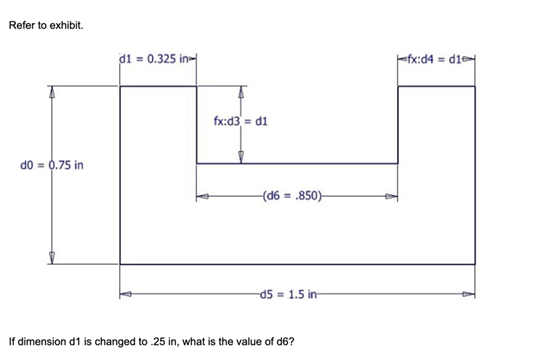 Answer key