Whitepaper Download: Enabling Design Agility with CAD in-the-Cloud
The next major wave of innovation for CAD software is breaking on the industry. CAD software, offered as a service from the cloud, termed CAD-in-the-Cloud, is ready to be used in production design, engineering and manufacturing environments. Explaining how these new CAD in-the-Cloud services work and impact today's design challenges is the purpose of this eBook.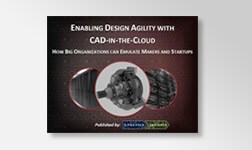 Complete the following form to obtain the ebook.